past presenters & performers
Leah Acker — neuroscientist Adam Anderson — astrophysicist Yasmine Azaiez — musician Eren Başbuğ — musician Katherine Behar — academic, artist Khiara Bridges — law & anthropology professor, dancer Paul Bush — filmmaker Mika Cooper — reformed academic Michael Dewberry — builder Joe Dumit — anthropologist of science Judson Evans — poet Dylan Foley — musician, composer Bill Gardner — sound engineer Adam Glasseye — musician, songwriter Nate Greenslit ...
SECRETS, part 1 Joe Dumit (anthropologist of science) – "Earth Possessed" Daniel Pencer & Arian Shafiee (Platyptilia) – improvised performance
WASTE Katherine Behar (academic, artist) – on e-waste Dan "the Bagel Man" Kontoff (activist)- on the politics of waste Liz Roncka & Jason Sanford (The Sliver Foxes) – improvised performance Vika Zafrin (library scientist & cook) – offal preparation
IDENTITY, part 1 Mika Cooper (reformed academic) – "Questions of Trans-identity" Dylan Foley (musician, composer) – performing the lifework of Utah Philips Brandon Perdomo (photographer) – photo booth installation Curt Savoie (principal data scientist for the City of Boston) – on the philosophy of data collection and collective identity
GUILT Gun Mother (Adam Glasseye & Georgia Young) – music performance David Mann, M.D. (psychiatrist) – "Agenbite of Inwit" Jacob Moses (historian of science) – on the remorse of sex reassignment surgeons
CIRCUITS, part 1 Leah Acker (neuroscientist) – On neuromodulation and the optogenetic control of brain circuits Yasmine Azaiez (musician) Mike Dewberry (builder) – "Cutting the Wires: searching for novel phenomena for technology-based art" Rebecca Kopycinski (Nuda Veritas) – solo performance Tony Leva (bassist)
BODIES, part II Paul Bush (filmmaker) – "Lay Bare," "Busby Berkeley's Tribute to Mae West" Jenny Herzog (dancer, singer) – "Chaos for All!" Sophia Roosth (historian of science) – "Sonic Envelope of Death" Norah Solorzano (animator) – "Dream Bodies" Nate Greenslit (anthro-apologist)
BODIES, part 1 Max Jackson & Gene Shinozaki (The Beat Travelers) – beatbox and didgeridoo performance Wythe Marschall (historian of science, writer, futurist) – "The Human Body: A Report From The Future" Janaka Stucky (poet, former undertaker) – Reflections on the postmortem care of nearly 2,000 bodies Marianne Thompson (Plein Air painter) & Nate Greenslit (anthro-apologist) – A joint presentation on electro-convulsive ...
BIRTH, part 1 Khiara Bridges (law & anthropology professor, dancer) – on pregnancy, birth, and race Wes Hazard (comedian) Cassandra Long (artist, storyteller) Mali Sastri (singer, songwriter) Nate Greenslit (anthro-apologist)
BODIES, part III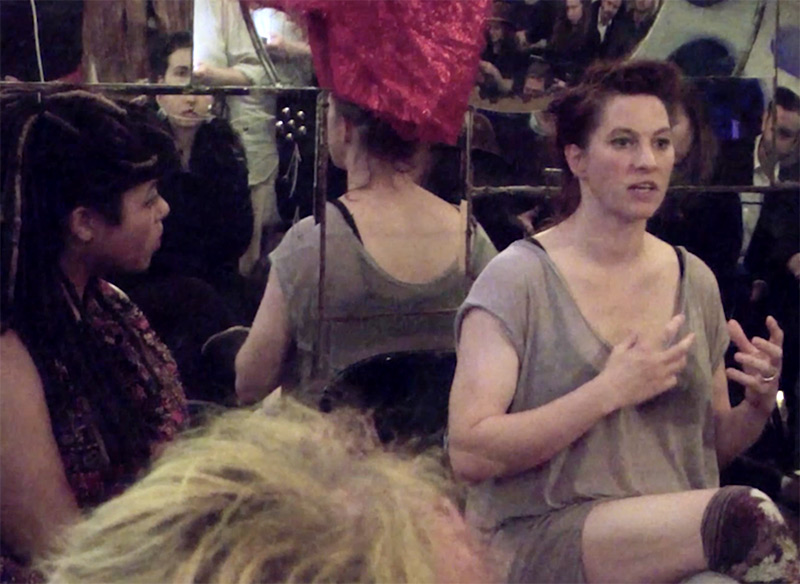 Bodies III, April 2016 Joe Dumit (anthropologist of science): "Viscus Self" Amanda Palmer (singer, songwriter, author): on natural childbirth Charmaine Lee (vocalist): performance See an excerpt of Amanda Palmer's discussion of her natural childbirth: Vocal performance by Charmaine Lee: